Sisson Excavating / Site Work
Sisson Excavating is one of the area's most respected and reliable Class A Contractors providing expert quality service to the Commercial and Residential Developers and Contractors in Virginia. Our company is licensed, insured and bonded as well as Certified with the State of Virginia Board of Contractors for Excavating, Grading and Public Utilities, holding the highest rating with a Classification H/H.

Having worked on Virginia Properties throughout the state for over 35 years, our reputation and experience is un-rivaled in the industry providing land clearing, site development and land grading as well as water and sewer utilities installation.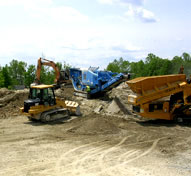 We have over 100 pieces of Heavy Construction Equipment from Dump Trucks, Bulldozers, Graders, Backhoes, Tub Grinders, and Stone Crushers to name a few. With our very qualified and equipment specific certified operators, you can be assured we will provide quality, personal, friendly and courteous service to meet your needs and timeline schedule for timely completion of your project.
We have worked for major residential and commercial developers within the state of Virginia including Ryan Homes, Ryland Homes, Virginia Properties, Augustine Homes, US Homes and Elliot & Associates and continue to have a healthy, respected relationship with these firms.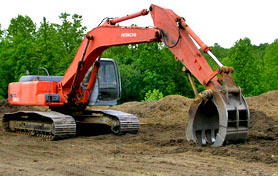 Sisson Excavating, Inc. also offer Excavation Equipment Rentals and provide qualified, certified drivers and operators to clear, grade and excavate your site for development. Our Heavy Equipment Rentals include Dump Trucks, Tub Grinder, Stone Crusher and Screener for your site debris.